10 Ways to Rock a Virtual Presentation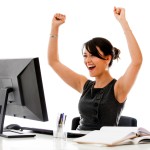 A good performer responds to and interacts with the audience.  So does a good presenter!
Successful communication is interactive. It means that the message intended was the message received.  The only way to know that is to create interaction. It might be on a high-tech webinar platform or just a conference call, either way it's important to get people talking with you. It drives engagement, reduces multi-tasking and creates collaboration so everyone can enjoy the event!
1.  Prepare to engage.
Tell your audience that this will be interactive because you want to ensure that your message is meaningful and the time spent is valuable.   Create short Q&A sessions frequently and manage the time for each. Ask your audience questions in addition to taking theirs. Here are some examples:
What are your thoughts?
Where should I elaborate?
What is your reaction to this section?
Where did I confuse you?
What are your concerns about what you see on this slide?
What challenges do you have?
What area should I review?
How would you anticipate using this information?
2.  Create clean and simple visuals.
The lack of non-verbal communication means you won't be able to easily sense when you've lost your audience. Keep things simple.
3.  Clarify context and meaning.
 Context provides meaning. Do not assume it is evident to all the audience.
 4.  Provide page number and summaries.
 Continue to guide the audience in case attention wandered.  It happens to everyone.
 5.  Repeat the question before you answer.
 This practice focuses everyone's attention and can help to create a concise answer.
 6.  Say what they see or pause to let them read it.
When the slide appears, the audience will read it. If you are saying something other than what they see, you will not be heard.
7.  Project your energy.
 Since your sound is all the audience has to get a sense of your style and likability, keep it lively.  Stand up, gesture, move your body to energize your sound.
8.  Vary your voice.
Your voice is the only tool of expression in a virtual presentation, so use pace, tone and volume to make it interesting and emphasize ideas.
 9.  Be conversational.
Avoid or reduce the use of full sentences in text. That enables you to get your message across and stay conversational.
 10.  Be even more positive in tone.
 The lack of visual cues, means the presenter must always work to keep everyone engaged and interested. Be upbeat and always aware of the needs of the audience.
Rock on!