4 Leadership Lessons from Jordan Spieth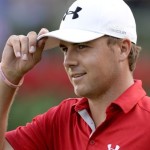 Leaders inspire and motivate others. You can find leaders all around you – in all parts of your life.    We certainly found one this weekend when Jordan Spieth won The Master's Tournament. At age 21, he demonstrates a maturity and poise that inspires others to achieve their potential – as he humbly accepts the acclaim.
Here are four lessons from Jordan Spieth:
1.  Declare Your Vision Publicly
Athletes have used the power of vision for many years. There are many examples of how they reported, after a victory, that it is just how they imagined it. The difference for Jordan is that he declared his vision to the public years ago.   At age 14, he said into a microphone that he wanted to win The Masters. A public commitment to a goal can spur us to action. It taps into our desire to not let others down and to succeed.
2.  Recognize Your Supporters
Recognition is a key part of the daily work of a leader.  This morning on his day-after TV appearances, Jordan graciously thanked all those who support him and "take care" of him. He said not a word about his own ability or the part he played in his victory. He talked about his autistic sister and about how she inspires him. He thanked his parents for their sacrifice over the years. No one succeeds alone and a great leader frequently and genuinely acknowledges that.
3.  Encourage Friendly Competition
Competition can bring out the best in us. When we see our co-workers and also our competitors doing well, it can drive us to innovate so we all lift our game. It inspires us when we see others working hard and at the top of their game. The New York Times article Sunday quoted Spieth's caddie as saying "…you want the cream of the crop to play well and you want to beat the best while they're playing their best."
 4.  Focus Your Mind
Mindfulness is an important mental skill as a leader's world becomes more complex.  Mindful is the ability to be fully present in a moment, to focus thought completely.   Not only has Jordan declared his vision but he also relayed how he visualizes each shot.  He shuts out everything else.  His focus is on his goal. The New York Times article quoted Jordan as saying "It's just about…setting a goal and being patient with the opportunities that are going to come my way."
Golfing had seemed so boring to me…until Sunday. Jordan Spieth didn't just win the famous Master's Tournament  — he won the admiration of many for his leadership.