How a New Manager Can be a Leader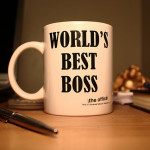 Never been the boss and now you are? Congratulations! You've done well, earned trust and been rewarded with a promotion. You have an opportunity to have an impact on the lives of others now. It's time to answer 4 big questions that can move you into the role of leader.
Becoming the boss is an enormous shift of mindset and skills. It's a big learning curve in which missteps should not come as a surprise – although they certainly should be reduced. Good leadership practices should start immediately. There's no time to get into bad habits. Those bad habits can be hard to break so embrace the role of a leader and do it soon.
Here are 4 questions that a new manager can answer to become a leader:
What kind of leader do I want to be? Don't wait for someone to tell you or train you how to lead. Think it through for yourself. Put your own stamp on leadership. Self-awareness is critical to leadership. Have a point-of-view and act on it.
What critical function does my team perform for the business? Clarify the purpose of your team and frequently explain how it connects to the whole enterprise. Update your team on the state of the business. Employees get engaged when they believe that they matter.
What does our future look like? Maybe it's one, two or three years out. Define the vision for your team — not just financial goals. Your vision should be one that will make the team proud to have reached it. We all dream about the future and aspiring to it together drives performance.
What defines us? The qualities and character (not policies and procedures) of your team create the culture. That defines the kind of people that we are together. It is our rules of engagement, how we treat each other. The leader guides that and that's your job now.
You are embarking on an exciting new step in your career. Let me know how it goes!
(This is the first of a 2-part post. I'll follow this up with suggestions on how the organization can help new managers succeed.)