How to Avoid the Waste-of-Time Meeting
Meetings can be a huge waste of time – no news there. There are too many and they are frequently badly managed. They may run over, be boring, lack focus, rigor and alignment. It's a big drag on everyone and on the business. The ripple effects created by a bunch of disengaged people returning to their desks is beyond measure. Terrible!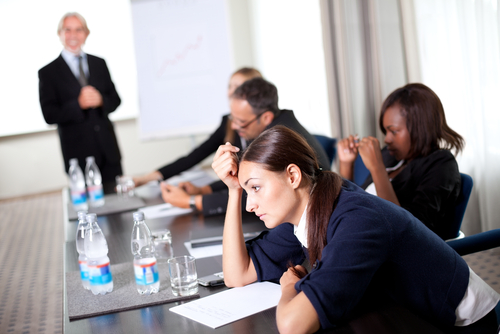 Leaders need to build productive teams and the team meeting – small or large — is an enormous factor in driving productivity and engagement. A simple tool can drive engagement and foster continuous improvement. It can also develop critical thinking – a skill that bosses seek according to research from a Harris Interactive survey, recently shared in the Wall Street Journal. It seems that students think they have critical thinking skills and bosses don't tend to agree.  Critical thinking involves process analysis, evaluation and problem solving. Leaders can use the tool in every meeting to get everyone involved in thinking critically about how to improve. We all learn from experience but only if we think about it by naming and claiming what worked, why and what we need to do instead.
Here's the tool: The Debrief. It's the interaction that trainers lead after an experience. It's a Q&A session that helps participants think critically about the experience and make meaning of it. I'm sure you've been part of programs in which a trainer asks participants questions after an activity in order to create value from it. That's what leaders need to do with meetings i.e. create value.
Here's how:
After you conclude every meeting, allow 5 minutes for a simple debrief.
You can do it anonymously (by asking for written response at the end of the meeting) or in a group discussion.
Here are three good debrief questions:
What worked about this meeting?
What was difficult in our interaction?
How can we improve?
The key here is to apply what you learn and to make this debrief a habit. The only way to continuously improve is to create repeatable processes that foster it.
What do think about creating this habit for avoiding the waste-of-time meetings?